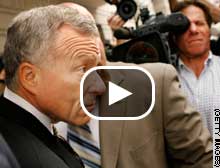 CNN's Brianna Kielar report on Libby's sentence.
WASHINGTON (CNN) - Lewis "Scooter" Libby, former chief of staff to Vice President Dick Cheney, was sentenced Tuesday to 30 months in prison for lying to investigators about what he told reporters about CIA operative Valerie Plame Wilson, whose name was leaked to the media in 2003.
He also has been fined $250,000.
Libby was convicted March 6 of four counts in a five-count indictment alleging perjury, obstruction of justice and making false statements to FBI investigators. He plans to appeal the verdict.