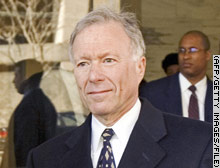 Former vice presidential aide Lewis Libby leaves the courthouse in Washington on March 6 after being convicted of perjury.
WASHINGTON (CNN) - Lewis "Scooter" Libby is to be sentenced Tuesday on convictions for perjury and obstruction of justice related to the leak of a CIA operative's identity to the media.
The former chief of staff to Vice President Dick Cheney did not testify in his own defense at trial in March, but his lawyers have not ruled out a response when the judge asks him if he has anything to say before sentencing.
Libby has maintained his innocence ever since he was indicted and resigned in October 2005.