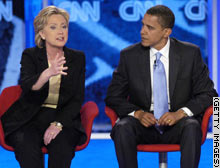 According to a new CNN poll, Sen. HIllary Clinton leads - even though Democrats find Sen. Barack Obama more likeable.
WASHINGTON (CNN) - Does likeability matter for a presidential candidate?
It may not be the determining factor, but likeability does matter.
Hillary Clinton is now the frontrunner among New Hampshire Democrats. But when Democrats were asked which candidate they find most likeable, Clinton came in third, behind Barack Obama and John Edwards.