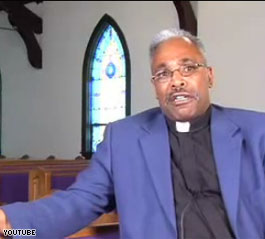 Rev. Reggie Longcrier from Hickory, NC
(CNN) - Rev. Reggie Longcrier from Hickory, NC Connecticut asks: "Sen. Edwards has said his opposition to gay marriage has been influenced by his Southern Baptist background. Most Americans agree it was wrong and unconstitutional to use religion to justify slavery, segregation and denying women the right to vote. So why is it still acceptable to use religion to deny gay Americans their full and equal rights?"
What did you think about the candidates' response to the question? What would you have asked? Add your comment below, or better yet, turn on your camera to record your commentary and reaction video and send in your I-Report. Your comments below or your I-Report video could be part of CNN's post-debate coverage.