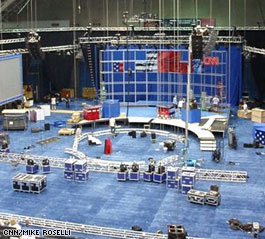 The CNN/YouTube debate stage is nearly deconstructed.
CHARLESTON, South Carolina (CNN) Right before my eyes, the stage from last night's CNN/YouTube Democratic presidential debate is disappearing.
Stage hands and engineers got to work about 11 p.m. ET last night and 13 hours later, their task continues.
Right now the stage is 80% deconstructed. And that's not all. The miles of cables and wiring that CNN put down for the debate is also being ripped out and packed up. By later today the Mark Clark Field House here on the Citadel campus will return to what it once was, as basketball arena.
- CNN Deputy Political Director Paul Steinhauser