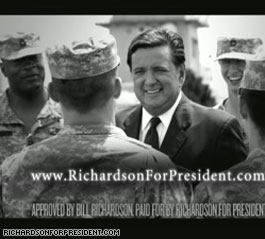 Veterans' health care is front-and-center in a new Richardson ad.
WASHINGTON (CNN) - New Mexico Gov. Bill Richardson released a new ad a few hours before the CNN/YouTube debate on Monday night targeting health care for veterans and demanding better life insurance to aid families of soldiers that die in battle.
The ad, "Heroes," calls for a "Heroes Health Card," which would give veterans the opportunity to use other hospitals if they live far from designated veterans' facilities. It also highlights a law he passed in New Mexico that increased the life insurance policy for fallen National Guard soldiers from $12,000 to $400,000.
"This ad shows how the governor has long supported our troops and has fought to honor their service with meaningful life insurance benefits and a health care proposal that would make health care much more accessible for veterans who live great distances from VA hospitals," campaign manager Dave Contarino said in a statement.
The ad started running on Monday in Iowa and New Hampshire.
–CNN Associate Producer Lauren Kornreich