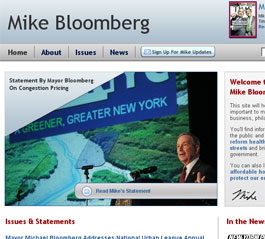 Bloomberg's personal Web site.
WASHINGTON (CNN) - The Web address www.mike2008.com may redirect readers to Michael Bloomberg's personal Web site, but it shouldn't be seen as a sign the New York City mayor is considering a White House bid, a Bloomberg spokesman tells CNN.
The New York Daily News reported the site's existence Wednesday, but Stu Loser, a spokesman for the mayor, told CNN the domain name was originally purchased in 2005, along with several other domain names - including mike2005.com and mike2007.com.
Loser said Bloomberg's staff purchased the domain names to prevent cybersquatting, the practice of buying a domain name that includes a trademark belonging to another person or company with the intent to sell at a high profit.
Loser noted the domain name has redirected to Bloomberg's site for months and contended the Daily News report contains no new information.
Bloomberg, who officially dropped his Republican Party affiliation in June and has long been rumored to be considering an independent White House bid, re-launched his personal Web site in May.
- CNN's Jacki Schechner and Eric Weisbrod