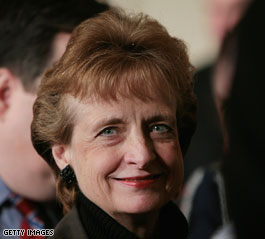 The House Judiciary Committee is recommending contempt charges for White House aides Harriet Miers, above, and Josh Bolten.
WASHINGTON (CNN) - The House Judiciary Committee on Wednesday voted to recommend that Congress issue contempt citations to a former and a current White House official for failing to comply with subpoenas issued in the investigation into the firings of eight U.S. attorneys last year.
The panel voted 22 to 17 on a resolution to cite former Counsel Harriet Miers and Chief of Staff Joshua Bolten. Their decision now goes to the House floor for a vote.
A Democratic leadership aide told CNN the full House is unlikely to take up the issue before its August recess.
"This is not a step that as chairman I take easily or lightly, but it is one I believe necessary - not only to allow us to gain an accurate picture but to protect our constitutional prerogatives as a co-equal branch of government," said committee Chairman John Conyers, D-Mich., at the start of the meeting.
Miers was President Bush's pick for the U.S. Supreme Court, before she removed herself from consideration in October 2005.

The citations were requested in response to Miers and Bosten's failure to comply with subpoenas issued by the committee for documents and testimony, including Miers' refusal to even appear at her scheduled hearing on July 12.
White House Counsel Fred Fielding alerted the committee on June 28 that the White House would not provide the documents as required by the subpoena, asserting President Bush's executive privilege.
"The investigation did not begin with the White House, but has ended up there only after a review of thousands of pages of documents and obtaining the testimony and interviews of 20 current and former Department of Justice employees," Conyers said.
"We have been open at all times to reasonable compromise, and have been fully respectful and cognizant of the prerogatives of the executive branch."