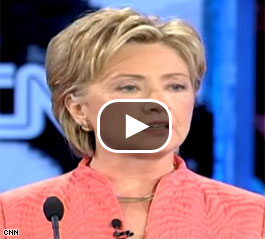 Watch CNN's Bill Schneider report on the Pentagon's latest response to Clinton.
WASHINGTON (CNN) - While saying that the discussion had "went astray," Defense Secretary Robert Gates stopped short Thursday of repudiating earlier Pentagon criticisms directed at Sen. Hillary Clinton for her request for a plan to withdraw troops from Iraq.
Gates told the New York Democrat and presidential candidate that there is a "need to be careful not to undermine the morale of our troops or encourage our enemies" while conducting congressional oversight of the Iraq war.
Gates' reaction stems from a sharp exchange last week between Clinton and Eric Edelman, undersecretary for defense policy, regarding the New York Democrat's request for Iraq withdrawal plans.
Edelman, in a letter to Clinton, called such an inquiry "premature" and said it "reinforces enemy propaganda that the United States will abandon its allies inIraq, much as we are perceived to have done in Vietnam, Lebanon and Somalia."
In a conference call with reporters, Clinton called Edelman's letter "totally inappropriate" and fired a letter to Gates asking if he agreed with the charge.
Responding to Clinton's letter, Gates wrote in a letter to Clinton dated Thursday, "I emphatically assure you that we do not claim, suggest or otherwise believe that congressional oversight emboldens our enemies, nor do we question anyone's motives in this regard."
But Gates took care not to completely repudiate Edelman's comments, adding, "we all recognized that there are multiple audiences for what we say, and we need to be careful not to undermine the morale of our troops or encourage our enemies - the point Ambassador Edelman was trying to make in his letter."
Philippe Reines, a spokesman for Clinton, said the senator was "disappointed" Gates did not reject Edelman's comments, but said she "nevertheless welcomes Secretary Gates's acknowledgment that congressional oversight of the war in Iraqis essential to our national debate."
"She continues to believe strongly that there is absolutely no room for impugning the patriotism of those who rightfully engage in Congressional oversight," Reines added.
Reines also said Clinton, along with Massachusetts Sen. John Kerry, will continue to pursue their recently introduced legislation requiring the Pentagon to brief Congress on the military's contingency plans for withdrawing from Iraq.
Clinton said last week that "given the track record of this administration with respect to its failure to plan" it would be reassuring if the Pentagon briefed the Armed Services Committee on its plans.
"We have no reason to have confidence in this administration's grasp of the complexity of the problems we find ourselves in, and their record of dismissing and belittling the professional military when it comes to providing expertise and caution about certain policies raises very big red flags in our minds about what it is that is occurring when it comes to contingency planning," she said.
- CNN's Ted Barrett and Alexander Mooney contributed to this report