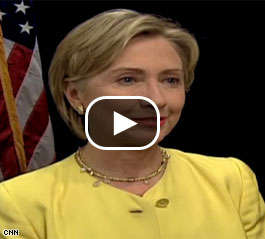 Watch Clinton's latest comments on her spat with Obama, only on CNN.
WASHINGTON (CNN) - Democratic presidential hopeful Hillary Clinton sharply dismissed Thursday a recent suggestion from chief rival Barack Obama that she is "Bush-Cheney light," telling CNN the comparison is "silly."
"You know, I have been called a lot of things in my life, but I have never been called George Bush or Dick Cheney certainly," Clinton told CNN's John King.
"You know you have to ask whatever has happened to the politics of hope," Clinton added, in reference to the Illinois Democrat's familiar campaign theme.
The two leading Democratic presidential contenders have been locked in a war of words following the CNN/YouTube debate Monday, when Obama said he would be willing to meet with controversial world leaders during his first year in office. Clinton, in response to the same question, said she would only meet with such leaders after a set of preconditions.
"I don't want to see the power and prestige of the United States president put at risk by rushing into meetings with the likes of [Venezuelan president Hugo] Chavez and [Cuban president Fidel] Castro and [Iranian president Mahmoud] Ahmadinejad," Clinton told CNN Thursday. "I think we have to be absolutely clear that we are going to engage with the world, that we are not afraid to have diplomacy."
The New York Democrat also brushed aside suggestions the Democratic primary race was getting overly negative too early.
"I think that we do have some disagreements, and those are obviously going to start coming out because this is a very intense period, for the primaries," she said. "But I welcome that debate, because I think that we want Democratic voters to get to know as much about each of us as possible, to know where we stand on issues, how we would approach the important concerns we'll face if we are president."
Defending his debate answer earlier Thursday, Obama said, "I'm not afraid to lose the P.R. war to dictators. I'm happy to look them in the eyes and say what needs to be said… I don't want Bush-Cheney light."
- CNN Chief National Correspondent John King contributed to this report