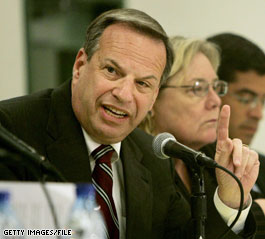 Filner, above, has been charged with assault and battery.
WASHINGTON (CNN) - Rep. Bob Filner, D-California, faces misdemeanor assault and battery charges related to an incident that occurred Sunday night at Dulles Airport, where he allegedly pushed a United Airlines baggage claim worker.
"The individual allegedly attempted to enter an area authorized for airline employees only, pushed aside the employee's outstretched arm and refused to leave the area when asked by an airline employee," said Courtney Prebich, assistant media relations manager for the Metropolitan Washington Airports Authority (MWAA), in a written statement.
"When MWAA officers arrived a few minutes later, the man had left the office and was waiting in the area of a bag carousel.
"Officers interviewed him and witnesses and released him. Before the individual left the airport, officers advised him that the airline employee would be pursuing charges."
The airline employee appeared Sunday night before a Loudoun County magistrate and a summons was obtained charging the 64-year-old, eight-term congressman with assault and battery, a class 1 misdemeanor.
Filner is scheduled to appear Oct. 2 in Loudoun County General District Court.
Filner's press secretary did not immediately return a call seeking comment.