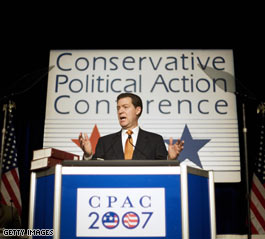 Sen. Sam Brownback is trying to distinguish himself from the rest of the Republican '08 field in the eyes of conservative voters
CHAPIN, South Carolina (CNN) - Kansas Sen. Sam Brownback, in South Carolina for the town of Chapin's annual Labor Day parade, said in an interview with CNN that his foreign policy experience will help him separate him from other Republican candidates vying to win over Christian conservative voters.
Along with Brownback, Republican hopefuls Mitt Romney, Mike Huckabee and soon-to-be candidate Fred Thompson are all working to position themselves as true conservatives on matters important to so-called "values voters," including the issues of abortion, gay marriage and judicial nominations.
"The pro-life issue [and others], I've carried those issues," said Brownback. But the Kansas senator then went on to explain that his experience on the Senate Foreign Relations committee gives him an edge that other Republicans lack.
"I really think we can do some separation on foreign policy, and that people are much more in tune [with the fact] that the next president needs to have foreign policy experience and not learn it on the job," he said.
Brownback also said that the current frontrunner in the race, former New York City mayor Rudy Giuliani, doesn't have the staying power to win the state's primary in January.
"I think a lot of the mayor's support - he's a wonderful man - but I think it's built on name ID, and I think it's very soft," said Brownback, who added that his stance on issues such as abortion, an optional flat tax, and a three-state political solution in Iraq will resonate with Palmetto State voters.
- CNN South Carolina Producer Peter Hamby