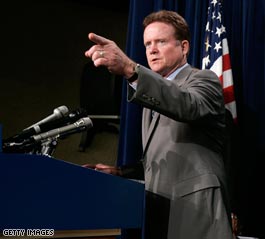 Virginia Sen. Jim Webb has a plan that may have enough votes in the U.S. Senate.
WASHINGTON (CNN) – On Capitol Hill, Senate Democrats believe they are making inroads toward a strategy to force a change in U.S. policy in Iraq. Congressional sources say they may be "close to having 60 votes" on a proposal from Sen. Jim Webb, D-Virginia, that would give American troops more time between deployments. Senate rules require 60 votes to defeat a filibuster and bring an issue to a vote, and 67 votes to overcome a veto from the president.
Supporters say mandating more time between deployments would force a reduction in troop levels because there are not enough troops to sustain a constant level of the130-thousand expected to remain in Iraq under the schedule laid out in the Petraeus Report.
The Webb plan is more moderate than the mandatory withdrawal timetables Democrats have failed to get, but said one source, "This has the advantage of being doable."
The Democratic leadership is looking for votes off a list of 11 Senate Republicans who have been critical "in one form or another" of President Bush's strategy in Iraq. Though expressing optimism, one Democratic source admitted, with the exceptions of Sen. Chuck Hagel, R-Nebraska, and Sen. Gordon Smith, R-Oregon, "We still don't have any Republicans making a clean break with the president, yet."
The measure – which would likely be attached to a Defense Authorization Bill – must also pass the House. Republican leadership sources there say they are confident the Webb amendment, which failed to garner the two-thirds majority necessary to overcome a veto the last time around, would meet the same fate in the House now.
Still, if the Senate passes the bill, war-weary House Republicans may feel freer to vote for it.
Despite the optimism in the Senate, Democratic aides were reluctant to make any predictions, noting that shopping and reshaping proposals is "a gradual process."
- CNN Senior Political Correspondent Candy Crowley