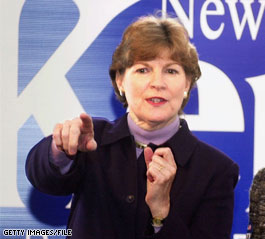 Shaheen will make a bid for a New Hampshire Senate seat.
WASHINGTON (CNN) – Former New Hampshire Gov. Jeanne Shaheen is resigning her post with Harvard University to run against Sen. John Sununu in 2008, the school announced Friday morning.
Shaheen, a Democrat, and Sununu, a Republican, squared off in 2002 for the Senate seat that was held, at the time, by GOP Sen. Robert Smith. Sununu defeated Smith earlier that year in the Republican primary, and went on to defeat Shaheen in the general election by a 51 to 47 percent margin. As of now, Shaheen does not have a clear path to the nomination, because there are already a handful of Democratic candidates running for the seat.
In 2005, Shaheen was appointed director of Harvard University's Institute of Politics.