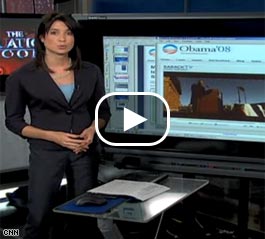 Watch Abbi Tatton's report about Barack Obama's online phone bank.
WASHINGTON (CNN) - Supporters of Sen. Barack Obama have always been mobilized in raising money online, but can they use the Web to energize voters in Hillary Clinton's backyard?
Watch CNN's Abbi Tatton examine the Democratic presidential candidate's latest effort to promote a massive rally in the heart of New York City by putting his supporters to work.
- CNN Internet Producer Eric Weisbrod