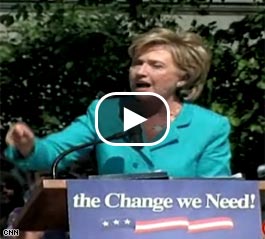 Watch CNN's Bill Schneider report Sen. Hillary Clinton has a commanding lead in the latest CNN New Hampshire poll.
WASHINGTON (CNN) - Democratic presidential hopeful Hillary Clinton has significantly increased her lead over rival Barack Obama in the crucial early-voting state of New Hampshire, according to a CNN/WMUR poll conducted by the University of New Hampshire released Tuesday.
The New York Democrat registered 43 percent in the latest poll, 23 points more than Obama, a senator from Illinois. In a similar poll conducted in July, only 9 points separated the candidates, with Clinton then at 36 percent and Obama at 27 percent. (Full poll results [PDF])
"The seven-point change for both candidates is within the poll's sampling error, but may indicate growing support for Clinton as the primary approaches," CNN Polling Director Keating Holland said.
Meanwhile, former North Carolina Sen. John Edwards stands at 12 percent in the latest poll, three points higher than July. New Mexico Gov. Bill Richardson is at 6 percentage points, 5 points lower than the last survey from CNN and WMUR. (CNN Interactive: The latest poll results)
NEW: Check out CNNPolitics.com for the latest news on the political front and from the campaign trail