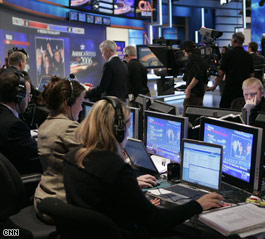 CNN was awarded an Emmy for its 2006 Election Night coverage.
(CNN) - The Best Political Team on Television received an Emmy award for CNN's live minute-by-minute coverage of the 2006 Election Night, in which Democrats took control of both the U.S. House and Senate for the first time in 12 years. The National Academy of Television and Arts and Sciences presented the award Monday night at a ceremony in New York City.
From its 25-foot-wide video wall that provided viewers with real-time information at a glance, to its top analysts and correspondents across the county, to its groundbreaking "Election Night Blog Party," CNN's 2006 coverage included the latest newsgathering and news production technology to offer viewers the most content-rich election programming available anywhere.