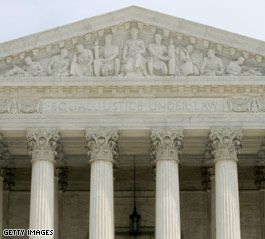 The Supreme Court will wade into the voter identification controversy.
WASHINGTON (CNN) - The Supreme Court will review the constitutionality of state voter identification laws, amid allegations they discourage large groups of disenfranchised Americans from going to the polls.
The two voter ID cases accepted by the justices Tuesday were among 17 appeals added to the court's docket. The oral arguments will be held early next year, with a ruling by late June.
At issue is whether laws designed to stem voter fraud end up discriminating against large groups of minority and poorer Americans, who might lack proper identification or might be afraid of putting their personal information on government files.
The cases involve an Indiana law passed two years ago requiring that a photo ID be presented when casting ballots in person at polling stations around the state. Previously, citizens needed only to sign a poll book to vote.
State and federal courts around the country have issued conflicting rulings on voter ID laws. Missouri's laws was found unconstitutional, but similar laws in Georgia, Arizona and Michigan were found to be proper.
Civil rights activists and the state Democratic Party complain Indiana's law was an effort by state Republican leaders to reduce turnout among minority voters, many of whom might be inclined to vote Democratic.
The Supreme Court has already accepted two election-related appeals, scheduled to be heard next week. One involves Washington state's open primary system and the other is a dispute over selecting state judges in New York.
The new voter identification cases are Crawford v. Marion County Election Board (07-21) and Indiana Democratic Party v. Rokita (07-25).
- Supreme Court Producer Bill Mears