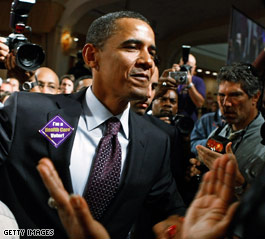 Obama declines another Iowa event.
DES MOINES, Iowa (CNN) - Criticized last week for not attending a candidate forum in Iowa, Sen. Barack Obama, D-Illinois, will also be absent from another upcoming Hawkeye State political event, the annual Johnson County Democrats' Fall Barbeque on October 6, his office confirmed Tuesday.
The event, held in the traditionally Democratic-leaning Johnson County, will include Sen. Hillary Clinton, D-New York, former Sen. John Edwards, D-North Carolina, New Mexico governor Bill Richardson, and Sen. Chris Dodd, D-Connecticut.
Calls to Obama's Iowa office relating to the decision were not immediately returned, but the campaign has previously stated that the Democratic presidential candidate will limit his appearances at forums and debates not sanctioned by the Democratic National Committee in order to spend more time engaging directly with voters. However, the Johnson County barbeque isn't being billed as any type of debate or forum.
The decision to miss the event comes at a time when the Illinois Democrat is already taking some heat for skipping other events in the first-in-the-nation caucus state.
Most recently, Obama opted out of Thursday's AARP candidate forum in Davenport, broadcast by Iowa Public Television to a national PBS audience. Five presidential candidates were present: Clinton, Edwards, Richardson, Dodd, and Sen. Joe Biden, D-Delaware.
The Des Moines Register's David Yepsen wrote in a column the next morning that while there was no clear winner of the forum, "the clear loser was Barack Obama for declining to attend."
Obama also skipped the Lance Armstrong Presidential Cancer Forum August 27 in Cedar Rapids, which was attended by the rest of the top-tier Democrats. A campaign spokesman told CNN at the time that the senator did not attend that event in order to spend "some private time with his family."
He also opted out of state Rep. Polly Bukta's annual Corn Boil fundraiser in Clinton on August 18 and the Iowa Democratic Party's Hall of Fame Dinner June 2 in Cedar Rapids. Both events incuded Obama's top-tier Democratic opponents, Clinton and Edwards, among others.
- CNN Iowa Producer Chris Welch
Related: The Register's Yepsen: Obama hurts himself by skipping Iowa debate
Related: Armstrong disappointed in no-shows