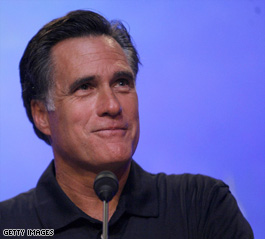 Romney was scheduled to campaign in South Carolina this weekend.
COLUMBIA, South Carolina (CNN) - Former Massachusetts governor Mitt Romney postponed several campaign stops in the Palmetto State this weekend due to a brief sickness and some subsequent "personal time," according to Romney's South Carolina campaign office.
The Associated Press reported Tuesday that Romney was postponing his stops "after getting sick during a rush to raise money before the end of the month." Romney was scheduled to appear in the Irmo Okra Strut Parade parade on Saturday, as well as holding two "Ask Mitt Anything" events and a meet and greet in Florence on Saturday and Sunday.
"Governor Romney was feeling under the weather, but he's fine now," Romney spokesman Will Holley told CNN. "He is taking some personal time this weekend, but otherwise is keeping a full campaign schedule."
The campaign stops have been postponed until October 18th.
- CNN South Carolina Producer Peter Hamby