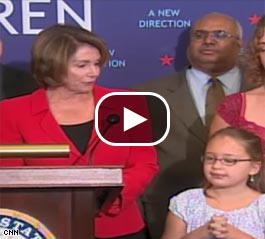 Watch Jessica Yellin's report about the battle of children's health insurance.
WASHINGTON (CNN) - The House of Representatives approved a sweeping expansion of the State Children's Health Insurance Program on Tuesday, but by a margin short of the two-thirds needed to override President Bush's threatened veto.
The $60 billion, 5-year measure would expand the program to cover millions of middle-class families, paying for the expansion with
61-cent-per-pack tax increase on cigarettes. The vote was 265-159, with 45 Republicans joining all but eight Democrats in voting for the plan.
House Speaker Nancy Pelosi, D-Calif., said the bill has overwhelming support and warned that Bush would "isolate himself" from the public with a veto.
"Let's hope and let's pray that a very big, strong, bipartisan vote tonight will send him a message to rethink his position," Pelosi said. She said a veto would give new meaning to the biblical injunction, "Suffer little children."
Bush has threatened to veto any expansion of the program beyond the $25 billion he proposed earlier this year. He demanded last week that Congress extend the program before it expires at the end of the fiscal year on Sept. 30.