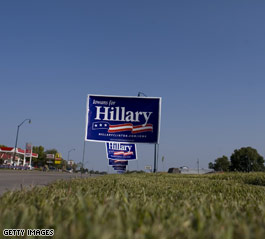 The Democratic presidential candidates debate tonight in New Hampshire.
COLUMBIA, South Carolina (CNN) - The campaigns of Sen. Hillary Clinton and former Sen. John Edwards will hold debate watching parties across South Carolina tonight. The field of Democratic presidential candidates will debate in New Hampshire starting at 9 p.m. tonight.
The Edwards campaign will hold watch parties in Charleston and Columbia.
The Clinton campaign said there are watch parties being organized across the state, from the Lowcountry to the Upstate. Clinton will call into the house parties following the debate as a "special guest."
As for the other top-tier Democrat, Sen. Barack Obama, campaign spokesman Kevin Griffis says his staff is hard at work preparing for this weekend's "Walk for Change II," a large-scale, statewide door-to-door canvass that will follow up on the nationwide "Walk For Change" organized by the Obama campaign in June.
- CNN South Carolina Producer Peter Hamby