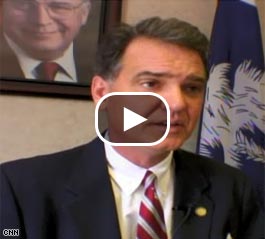 Watch the chairman of South Carolina's Republican Party discuss Mitt Romney and the other GOP presidential candidates.
COLUMBIA, South Carolina (CNN) - In an interview with CNN about the leading Republican presidential candidates, South Carolina GOP chairman Katon Dawson tried to explain why former Massachusetts Gov. Mitt Romney, despite investing serious resources here, is still trailing in state polls.
"You know, it's hard to tell," said Dawson. "Out there in the grassroots where we are, you have to introduce yourself, and he's had to introduce himself to South Carolina. There are other very well-known names ... [former New York City mayor] Rudy Giuliani is virtually known by the entire electorate in the Republican primary, where certainly Mitt Romney had zero name ID when he came in here. I mean nobody really knew who the governor of Massachusetts was and even the fact that he was a Republican."
Dawson compared Romney's low poll numbers to those of former Arkansas governor Mike Huckabee, who has also had to introduce himself to South Carolinians. But Dawson noted that Romney has spent significantly more than Huckabee.
Romney has a large state office in Columbia, has hired two of South Carolina's most well-known consultants - Terry Sullivan and Warren Tompkins - and he is the first Republican candidate to run television ads in the state. Still, Romney stands at about nine or 10 percent in recent polls.
Dawson said Romney still has some time to raise his profile. "There is a lot of room to grow when you're in single digits," he said.
Asked if a Southern candidate like Huckabee or former Tennessee Sen. Fred Thompson would have an advantage over someone like Romney or Giuliani, Dawson said such a factor would help but not determine the primary winner.
"I don't say a Southerner has a leg up," Dawson said. "Certainly they have unique characteristics that we understand here, and its great on the stump, and it makes you feel good, and it gives you somewhat of an advantage that you're from a southern state that understands the political culture here, but with that being said I think that our voters are more sophisticated than 'you're just from a neighboring state.'"
[For more campaign news from South Carolina, check out the South Carolina Political Ticker.]
- CNN South Carolina Producer Peter Hamby