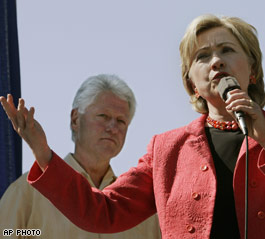 Former President Clinton on the campaign trail with his wife.
(CNN)–Although Sen. Barack Obama, D-Illinois, says he is the candidate best suited to change the ways of Washington as president, former President Bill Clinton says he was far more experienced to be president when he ran in 1992 than Obama is today.
Despite the fact that Clinton was 46 when he ran, the same age as Obama today, "there is a difference," Clinton said Friday in an interview with Al Hunt of Bloomberg Television. "I was the senior governor in America. I had been head of any number of national organizations that were related to the major issue of the day which is how to restore America's economic strength."
"I was in terms of experience was closer to Senator Obama in 1988 when I came within a day of announcing because most of the governors were for me," the former president, and husband of Democratic White House hopeful Sen. Hillary Clinton, D-New York, said. "I had been governor for six years, and I really didn't think I knew enough and had served enough, and done enough to run. That doesn't mean that he shouldn't. That's his decision."
"What America needs in a president changes from time to time," Clinton said when highlighting his wife's role as a two-term senator, former first lady, and member of the Senate Armed Services Committee. "Her experience is more relevant and more compelling."
On Saturday, Obama sought to use some previous comments by the former president to prove a point.
"I remember what was said years ago by a candidate running for President. He said, 'The same old experience is not relevant. You can have the right kind of experience and the wrong kind of experience.' Well that candidate was Bill Clinton. And I think he was absolutely right," Obama said in a statement released by his campaign. "I may not have the experience Washington likes, but I have the experience America needs—the ability to bring people together, stand up to the special interests, and tell the truth to the American people on the major issues we face, from Iraq to Social Security," Obama said.
Obama, a former member of the Illinois state legislature, is in his first term in the United State Senate, and a member of the Senate Foreign Relations Committee.
- CNN Political Desk Editor Jamie Crawford