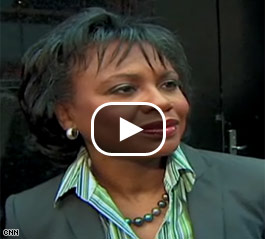 Watch Anita Hill respond to Supreme Court Justice Clarence Thomas in an interview with CNN.
NEW YORK (CNN) - Anita Hill, the woman who significantly jeopardized the 1991 Supreme Court nomination of Clarence Thomas with allegations of sexual harassment, told CNN Tuesday she feels the need to "speak out" in the face of Thomas' latest allegations that the case was fabricated.
"In many ways I have made peace with what has happened in 1991, even what happened in the years I was working with Thomas," Hill told CNN. "I've moved on, but when comments like those made by Judge Thomas are made again, completely unsubstantiated comments, then I have to speak out."
In his new autobiography, "My Grandfather's Son," Thomas calls Hill his "most traitorous adversary" and describes her as a second-rate worker who was likely to overreact to "slights."
Thomas also denies any inappropriate contact with Hill and, in an interview Sunday with CBS's "60 Minutes," alleges her testimony during the confirmation hearing was politically driven and used as "a weapon to destroy me, clear and simple."
Hill strongly denied the claims Tuesday in an interview with CNN.
"There have been several books written since then by independent journalists. They have all investigated those charges that were raised in 1991 and that he raises now, and they have all found them to be false," she said. "They haven't found one connection between me and someone who was politically motivated to keep him off the court."
"What happened was that I was contacted by the Senate, and the Senate contacted me and asked me a direct question about what happened to me in the workplace, and I responded truthfully," she added. "And there was no intermediary group that put me up to anything."
For the full interview with Hill, tune into the Situation Room today, 4, 5, and 7 p.m. ET.
Click here to see CNN's new political portal: CNNPolitics.com
- CNN Ticker Producer Alexander Mooney