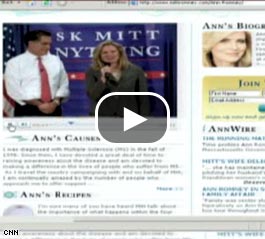 Watch Abbi Tatton's report about Ann Romney's new Web site.
WASHINGTON (CNN) - Ann Romney, who is very active in her husband's presidential campaign, is featured in a new Web site that highlights her experiences on the trail, the Romney family and her ongoing battle with Multiple Sclerosis.
Ann Romney's husband, former Massachusetts Gov. Mitt Romney, is seeking the Republican presidential nomination. In a video greeting, Romney said she hopes to give Americans a unique perspective into her family's life and the campaign.
"I hope people from across the country will get to know a little bit more about me, my causes and the importance of family in my life," she said in a statement. "Our campaign is doing so many creative things online, and I'm proud that this site will be a part of that."
- CNN Associate Producer Lauren Kornreich