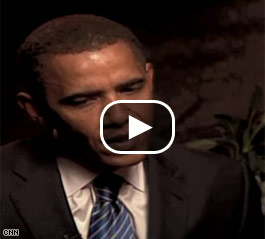 Watch CNN's Candy Crowley interview Barack Obama Tuesday.
CHICAGO, Illinois (CNN) - White House hopeful Barack Obama told CNN Tuesday his early opposition to the Iraq war proves he has the judgment to lead the country out of the conflict, and said the reason polls show voters think rival Hillary Clinton would better handle the issue is because the New York Democrat has successfully blurred the distinctions between the two candidates.
"Everybody had difficult choices to make and these were difficult choices, I made the right choice, and I think that's relevant not to the past, but to the future," Obama said in an interview with CNN's Candy Crowley of his decision as an Illinois state senator to come out against the war in 2002.
Back then, five months before the U.S. invaded Iraq, Obama said publicly that Saddam Hussein "poses no imminent and direct threat to the United States, or to his neighbors," that he could be contained, and that "even a successful war against Iraq will require US occupation of undetermined length, at undetermined cost, with undetermined consequences." Obama added that such a war would "strengthen the recruitment arm of Al Qaeda."
Related: Obama raises at least $20 million in third quarter
- CNN Ticker Producer Alexander Mooney