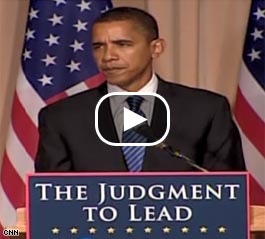 Watch a clip of Sen. Obama's foreign policy address.
WASHINGTON (CNN) - In a speech Tuesday marking the fifth anniversary of the first time he spoke out against the Iraq war, Sen. Barack Obama, D-Illinois, emphasized that he had opposed combat from the beginning and said Congress "failed" the American people for voting to authorize it in the first place.
"This was a vote about whether or not to go to war," the Democratic presidential candidate said in Chicago. "That's the truth as we all understood it then, and as we need to understand it now. And we need to ask those who voted for the war: how can you give the President a blank check and then act surprised when he cashes it?"
In his speech five years ago, Obama first publicly voiced his opposition to the war just a week before Congress voted to give President Bush the authority to send troops to Iraq. At the time, he was running for the U.S. Senate. (Related: Obama: Clinton blurring distinctions between us)
"I don't oppose all wars," Obama said in 2002. "What I am opposed to is a dumb war. What I am opposed to is a rash war. A war based not on reason, but on passion. Not on principle, but on politics."
In his speech on Tuesday, he reiterated that he had opposed the war from the start and said would start to bring troops home immediately. He said he is the most qualified candidate to end the war, since he "got the single most important foreign policy decision since the end of the Cold War right."
"The first thing we have to do is end this war," Obama said. "And the right person to end it is someone who had the judgment to oppose it from the beginning. There is no military solution in Iraq, and there never was."
Obama's comments were a thinly-veiled attack on his two closest rivals for the Democratic presidential nomination - Sen. Hillary Clinton, D-New York, and former North Carolina Sen. John Edwards - who voted to authorize the war in 2002.
Obama also criticized President Bush for refusing to deal diplomatically with countries like Iran and North Korea and said America needs a leader who would "talk to all nations, friend and foe." Obama received heavy criticism earlier this year for saying that he would agree to talk to Iran's president.
The Democratic presidential candidate heads to Iowa Tuesday afternoon for more speeches on the Iraq war.
- CNN Associate Producer Lauren Kornreich