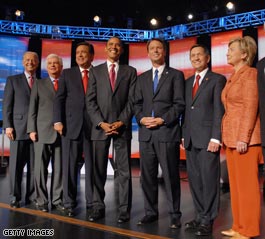 Who will win the coveted support of the former head of New Hampshire's Democratic Party?
MANCHESTER, New Hampshire (CNN) - Kathy Sullivan is a big fish who swims in a small but very important pond, and she is ready to be landed.
The former head of the New Hampshire Democratic Party is a "prize political catch" well known for her grassroots approach to campaigning and willingness to get her hands dirty. Up until now, no presidential candidate has been able to win her backing. That is about to change.
Sullivan told me she is getting ready to get back in the game and is committed to helping her candidate win the Democratic presidential nomination.
"I am thinking, because we are getting into October, the election is three months away," she said last week during a meeting at her law office. "So, if I want to have any fun in terms of getting involved in the campaign, I better hurry up."
The timeframe? "Probably the next couple of weeks," she said.
Sullivan said she is "leaning" towards one candidate, but is guarding that name until she is ready to publicly announce it. If you listen closely to Sullivan discuss what she is looking for in a candidate, it sounds as if the person she is "leaning" towards is Sen. Hillary Clinton, D-New York.
"A lot of people talk about change. This is the change election," she said. "What I am more concerned about isn't change. My concern is more fixing and cleaning up. That we have had enough in Washington, and we have got to clean up a mess."
"Change" has been a major theme for Sen. Barack Obama, D-Illinois, and former Sen. John Edwards, D-North Carolina, while Clinton has been emphasizing her experience on the campaign trail.
And there is a path already blazed to Clinton's campaign headquarters, if Sullivan chooses to follow it. Earlier this year, Clinton lured two of Sullivan's top aides at the state party to join her campaign. Nick Clemons is Clinton's state director and Kathleen Strand is her state spokeswoman. Clemons and Strand left their posts at the state party, just as Sullivan was stepping down after eight years of battling Republicans back home as well as the Democratic National Committee in an effort to preserve her state's unique role in helping select the presidential nominees.
The former state party chair couldn't have gone out on a bigger high when she retired from her post in March. Five months earlier, she witnessed the Democratic governor win re-election and her party take control of the House, Senate, and Executive Council as well as defeating the state's two GOP congressmen.
Sullivan told me she purposely has stayed out of the primary battle to spend more time with her husband, focus on her job as a real estate attorney and simply recharge the batteries.
"While I missed most of the political stuff, it was great knowing that even if there was an event someplace on a Saturday I didn't have to be there," Sullivan said. "I could go do something else."
She added, "I know that I missed a lot in terms of getting involved in a campaign and the strategy and the rest of that, but you know what? I did that for eight years on the state level."
Sullivan was able to keep the candidates from calling her for most of the summer by telling everyone she was working to try and convince former Gov. Jeanne Shaheen to seek a rematch against Sen. John Sununu for his seat. Last month, Shaheen jumped into the race.
The former state party chair sought to downplay how important her endorsement will be and instead suggested the governor, two congressmen, top state lawmakers and Shaheen carry much more weight than she does.
But Sullivan is important because she can serve a candidate in two very important ways: she is a big name in New Hampshire Democratic political circles, and she is willing to knock on doors.
"So, it seems as if Clinton is the logical choice," I said as we wrapped up our talk.
"That is true," Sullivan responded with a smile. "But I know people in a lot of campaigns."
–CNN Political Editor Mark Preston