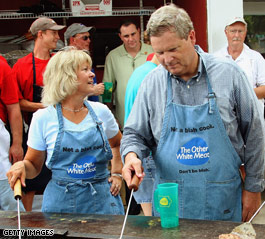 Clinton said she will have a place for both Vilsacks in her administration.

ANAMOSA, Iowa (CNN) - Sen. Hillary Clinton, D-New York, said Sunday that she would want former Iowa Gov. Tom Vilsack, as well as his wife Christie, serving in her administration.
Clinton was asked how she would use the former governor in the White House if she were elected president.
"I tell you what," she said. "I think that both he and Christie should be in the administration. They are two of my favorite people who've done a great, great job."
"I have actually stolen a lot of ideas from what Tom Vilsack did as governor," Clinton said. "Some of the energy policy, some of the infrastructure - a lot of it really is far-reaching, a lot of the pre-school policy. So I am thrilled to have their support, and I hope I'll be able to entice them into the Clinton administration."
Vilsack was the first Democrat to officially announce his candidacy for president, but dropped out of the race in February. He is often mentioned by political pundits as a possible vice presidential running mate for Clinton. These days both Vilsack and his wife are often seen on the campaign trail supporting Clinton.
- CNN Iowa Producer Chris Welch