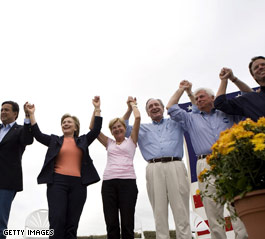 Several Democratic contenders gathered recently in Iowa for Sen. Tom Harkin's annual steak fry.
WASHINGTON (CNN) – Pre-Christmas Iowa caucuses? Not in this presidential election cycle.
After months of speculation that Iowa might hold its caucuses in December, a state Republican official said Monday the party is zeroing in on January 3 and 5 as two possible dates to hold the first nominating contest of the 2008 presidential contest. (CNNPolitics.com: Clinton opens lead in Iowa, poll finds)
Mary Tiffany, a spokeswoman for the Iowa Republican Party, said the party appears to be leaning towards January 3, but cautioned that not all members of the Iowa GOP's State Central Committee has weighed in on the matter and must do so before a date is finalized. The group held a conference call late last week to discuss potential dates, and a final vote could happen next Tuesday when it convenes another call, Tiffany said.
Earlier this year, Iowa Democratic Party Chair Scott Brennan vowed not to hold his party's caucuses in December.
Tiffany noted that Iowa Republicans have been in frequent contact with their Democratic counterparts over the date and predicted the two political parties will hold the event on the same day.
"I think we both want that, and ultimately we know that it is important for Iowa," she said. "Right now, we are not just thinking as individual parties. We are thinking as Iowa and its first-in-the-nation status."
Once Iowa chooses a date for the caucuses, one of the final major pieces of the puzzle is likely to fall into place. New Hampshire Secretary of State William Gardner has yet to announce a date for his state's primary.
- CNN Political Editor Mark Preston