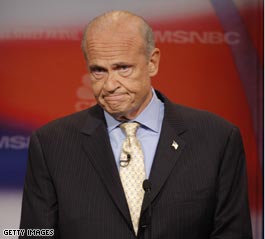 The first question of Tuesday's debate was directed at Fred Thompson.
(CNN) – It was just a few seconds that may normally have gone unnoticed, but since Tuesday's presidential debate in Dearborn, Michigan, marked former Sen. Fred Thompson's first joint appearance with his GOP White House rivals, all eyes and ears were trained on the Tennessee Republican's every word . . . and in some cases his pauses.
Thompson was asked in the debate's lead-off question whether he believed the nation was headed towards a recession.
"I think there is no reason to believe that we're headed into a recession," he began his response. "We're enjoying 22 quarters of successive economic growth that started 2001 then further in 2003 with the tax cuts that we put in place. We're enjoying low inflation. We're enjoying low unemployment. Stock market seems to be doing pretty well."
He continued by saying, "I see no reason to believe we're headed for," and then took what a former television and movie actor might call a dramatic pause that lasted for several seconds before completing his thought with "for an economic downturn."
Thompson concluded his inaugural presidential debate question with his analysis of the nation's economic future and answered a follow-up question on the causes of consumer angst.
The former senator officially announced his candidacy last month just hours after the last Republican debate ended. He received criticism from his rivals for skipping that event.
–CNN Associate Producer Lauren Kornreich