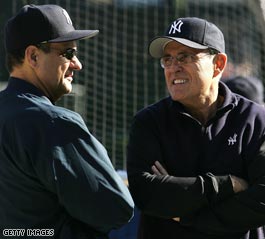 Former New York City Mayor Rudy Giuliani chats with his friend Joe Torre, manager of the New York Yankees.
DEARBORN, Michigan (CNN) - Here at the Michigan Republican debate, Giuliani didn't just take on his fellow Republican candidates, but he also took on New York Yankees owner George Steinbrenner. Rudy Giuliani was asked whether Joe Torre, the manager of his beloved Yankees, should keep his job following the Yankees' playoff elimination by the Cleveland Indians.
Giuliani's simple answer: "God willing."
There has been much media speculation about whether Steinbrenner will retain Torre who has been the Yankees' manager for 12 years. Steinbrenner reportedly said that if the Yankees didn't advance in the playoffs, Torre's job was "on the line."
Giuliani is a longtime Yankee fan.
Click here to see CNN's new political portal: CNNPolitics.com
- CNN Political Director Sam Feist