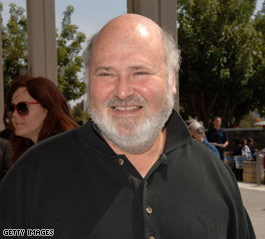 Rob Reiner has a new directing project.
WASHINGTON (CNN) - Hollywood mogul Rob Reiner is taking his directing skills from the lot to the campaign trail.
After announcing his support for Sen. Hillary Clinton, D-New York, Reiner took another step to help her presidential bid by producing a movie for her campaign's web site. The video, which was released on Tuesday, shows the legendary actor and director coaching Clinton volunteers on how to be more persuasive on the trail.
"No, no, you're not going to convince anyone with that," Reiner said to a female supporter making campaign calls. After grabbing the phone and lecturing her, she improved her performance and was able to get her message out.
Reiner announced in late September that he would officially back Sen. Clinton's presidential bid.
Reiner, the director of numerous box office hits, including "When Harry Met Sally," has been one of Hollywood's most politically active figures. He backed Howard Dean's 2004 presidential bid, but threw his star power behind Sen. John Kerry after he won the Democratic nomination.
Legendary director Steven Spielberg has also announced his support for Clinton.
- CNN Associate Producer Lauren Kornreich