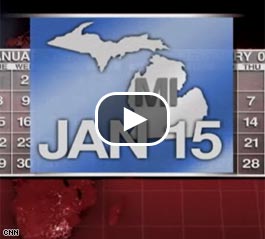 Watch Bill Schneider's report on why several Democrats removed their names from the ballot in Michigan's presidential primary.
WASHINGTON (CNN) - Five Democratic presidential candidates Tuesday sought to officially withdraw from Michigan's January 15 primary, rendering the event virtually insignificant.
Sen. Barack Obama of Illinois, Sen. Joe Biden of Delaware, New Mexico Gov. Bill Richardson, former Sen. John Edwards of North Carolina, and Rep. Dennis Kucinich of Ohio all announced the move Tuesday, the deadline for filing such paperwork.
The feud between the Michigan Democratic Party and the DNC comes as the Republicans face off in a presidential debate in Dearborn, Michigan.