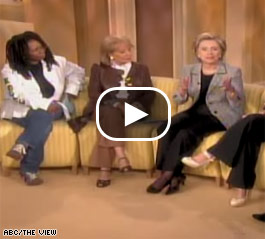 Watch Clinton on 'The View' Monday.
WASHINGTON (CNN) - Democratic White House hopeful Hillary Clinton told ABC's "The View" Monday that it's different running for president as a woman, noting people focus more attention on her appearances and mannerisms than on those of her male counterparts.
"Oh, yes, yes. Oh, yes," Clinton said when asked about the difficulties she encounters as a woman candidate. "The hair. The hair. The clothes. The laugh," the New York Democrat added, referencing the scrutiny she has faced on her evolving hairstyles, clothes, and most recently on what some have dubbed her 'cackle.'
"I do think that there still is, you know, probably a tougher standard for women, especially running for president," she added. "I mean, we've all been through it in some way or another. Where you go and you try to break a barrier, you try to do the best you can, and people are saying, 'Well, I don't like her clothes,' or, 'I don't like her hair,' or whatever."
During her appearance on The View, Clinton also brushed aside the suggestion that leaders from countries unsympathetic to women's rights would refuse to meet with her if she was elected president.
"You know, I have been to 82 countries," the Democratic frontrunner said. "And I have met with the leaders of a lot of countries that are not exactly in the forefront of giving women their rights. And I've never found that to be a problem."
"I actually think, assuming I'm so fortunate as to be elected, that sends a very strong message to those countries and to those leaders," she added.
Clinton's appearance on the daytime talk show kicked off a week in which she is aiming to play up her connection to female voters. Appearing at a women's luncheon honoring Eleanor Roosevelt later on Monday, Clinton said she often draws inspiration from the former first lady. (Related video: Clinton plays the female card)
"She said, 'You know, if you're going to be involved in politics you have to grow skin as thick as a rhinoceros,"' Clinton noted. "So occasionally, I'll be sitting somewhere and I'll be listening to someone perhaps not saying the kindest things about me. And I'll look down at my hand and I'll sort of pinch my skin to make sure it still has the requisite thickness I know Eleanor Roosevelt expects me to have."
Click here to see CNN's new political portal: CNNPolitics.com
- CNN Ticker Producer Alexander Mooney