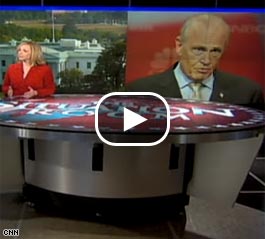 A representative of the Thompson presidential campaign visited the Situation Room.
WASHINGTON (CNN) - Campaign spokeswoman Karen Hanretty explained former Senator Fred Thompson's much-talked-about schedule to Wolf Blitzer on Monday. She also made the case for Thompson's conservative credentials relative to the other frontrunners for the 2008 Republican presidential nomination. Watch this clip from CNN's "The Situation Room."
Related: Where is Fred Thompson?
Click here to see CNN's new political portal: CNNPolitics.com