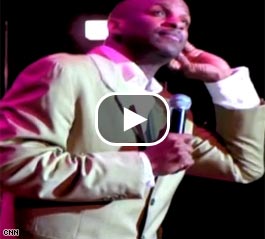 Watch Donnie McClurkin address the controversy surrounding him at Sunday night's concert.
WASHINGTON (CNN) - Democratic presidential candidate Barack Obama said Monday he is "disturbed" by some of gospel-singer Donnie McClurkin's views toward homosexuals, a day after the prominent Obama supporter lashed out at critics for calling him 'anti-gay.'
"It's true we had a controversy...a gospel singer was singing at a gospel concert on our behalf, he was one of many, and he had some views that were anti-gay," the Illinois Democrat said during an MTV/MySpace forum. "I am disturbed by those views and I have said publicly that I have disagreed with them."
But Obama defended his campaign's affiliation with McClurkin, saying, "I have also said we have to reach out to those who have a different attitude on these issues to try to teach."
Obama added that in the course of his presidential campaign he has "spoken out forcefully and clearly to African American ministers and African American denominations saying we've got to get beyond some of the homophobia that still exists in some of these communities." (Related: Obama's gospel concerts raise dilemma)
On Sunday night McClurkin headlined the final installment of the Obama campaign's "Embrace the Change" Gospel concert series, and addressed critics at the end of the event who have faulted him for saying homosexuality is a choice.
"They accuse me of being anti-gay and a bigot," McClurkin said. "We don't believe in discrimination. We don't believe in hatred, and if you do you are in the wrong place at the wrong time. That's the whole premise of God. That's the whole premise of Christ is love, love, love. But there is a side of Christ that deals in judgment, and all sin is against God."
"Don't call me a bigot or anti-gay, when I have been touched by the same feelings," McClurkin, who has said he once felt homosexual impulses, went on. "When I have suffered with the same feelings. Don't call me a homophobe, when I love everybody … Don't tell me that I stand up and I say vile words against the gay community because I don't. I don't speak against the homosexual. I tell you that God delivered me from homosexuality."
- CNN's Alexander Mooney and Peter Hamby