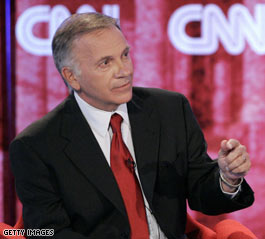 Tancredo sought to make a risky bet with rival Mitt Romney.
WASHINGTON (CNN) - With the Colorado Rockies down 2-0 to the Boston Red Sox in the World Series, Republican presidential candidate Tom Tancredo must be relieved rival Mitt Romney didn't take his bet.
Before the start of the World Series Wednesday night, the Colorado Congressman issued a challenge to the former Massachusetts governor: whichever candidate's home-team wins the series gets to stay in the presidential race - the other has to drop out.
"Governor Romney, I propose we make a bet on the World Series." Tancredo said in an issued statement. "I will agree to drop out of the race if the Red Sox win on the condition that you will agree to drop out if the Rockies win."
This is the second such life-or-death bet Trancredo has attempted to make with Romney. Last week the Colorado Republican challenged Romney to a trap-shooting contest in New Hampshire on the condition the loser abandons his presidential bid.
Tancredo spokesman Alan Moore told CNN he never heard a response from the Romney campaign on the baseball bet. Asked if Tancredo was actually prepared to exit the race if his baseball team lost, Moore said, "I guess we'll never know."
Reacting to the proposal, Romney spokesman Kevin Madden said, "Governor Romney got in the race for the Republican nomination to win."
- CNN Ticker Producer Alexander Mooney