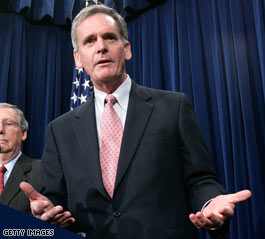 Sen. Gregg is backing Mitt Romney's presidential bid.
WASHINGTON (CNN) - New Hampshire Sen. Judd Gregg will endorse Mitt Romney for president Monday, a GOP source familiar with the announcement told CNN.
Gregg's decision to back Romney is a major boost for the Massachusetts governor, who has lost ground in the most recent CNN/WMUR New Hampshire poll but still continues to share the lead with former New York City Mayor Rudy Giuliani in this important early voting state.
Gregg is the Granite State's senior U.S. senator, and served as governor before heading to Capitol Hill. While Gregg prefers a low profile, he is considered to be a powerful player on Capitol Hill.
- CNN Political Editor Mark Preston