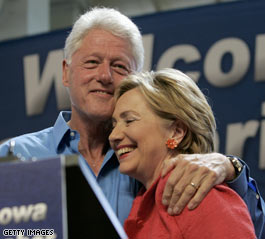 Bill Clinton made two campaign stops in South Carolina on his wife's behalf.
ROCK HILL, South Carolina (CNN) - At a campaign rally in South Carolina Monday evening, former President Bill Clinton defended his wife Hillary from charges made by other campaigns and some political observers that she is too polarizing to win the presidency.
"They continue to say she's the most unelectable because she's so polarizing," Clinton told the crowd gathered at a community center here. "Well they have dumped on her for 16 years. They'd all be polarizing too if the right wing of the Republican party which controls their politics had been dumping on them for 16 years. I'd like to see how those boys would stand up to it. I think the girl's done pretty well ... The more people know her her positive ratings go up and her negative ratings go down."
Clinton, who spent much of his nearly hour-long speech digging into issues like climate change, health care and the national debt, said his wife is better qualified than any other Democratic contender to step into the White House and lead from day one.
"I like all these other people running for president, and I'm not saying they couldn't restore our standing in the world, I'm just saying that America gets no honeymoon," he said. "We have made too many people mad for too long and we need to get this show on the road, she's the most likely to do that."
Still, Clinton said he liked liked every Democrat running for office, noting that he read Sen. John Edwards' health care plan and Sen. Barack Obama's energy plan with interest.
"I hope any of us can win. One thing I like about this race as a Democrat is I don't have to be against anybody," he said.
Monday marked Clinton's third campaign visit to South Carolina on behalf of his wife's presidential campaign.
UPDATE: The RNC responded to Clinton's comments: "Bill Clinton may not be against any of the Democrat presidential candidates, but the American people will be against their proposals for staggering tax hikes that will feed a growing DC bureaucracy that isn't getting things done for the American people," said RNC spokesman Brian Walton.
"There is a reason Clinton didn't win South Carolina when he ran for president, and it's the same reason Hillary and the other Democrat candidates won't win it in 2008."
- CNN South Carolina Producer Peter Hamby