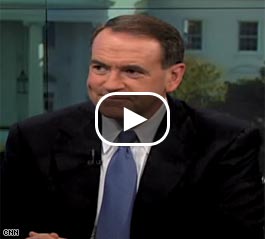 Watch Mike Huckabee address recent attacks on him from the right.
WASHINGTON (CNN) – Republican presidential candidate Mike Huckabee answered some of his conservative critics in an interview in the Situation Room Tuesday.  "Why are they coming after you like this?," Wolf Blitzer asked, referring to a conservative group's recent attack on Huckabee's tax record as governor of Arkansas. "Because I'm a threat to some folks who really want an old-fashioned, establishment Republican that can be controlled by a handful of people on Wall Street," Huckabee responded "and you know Wolf, I can't."
Huckabee also discussed his record regarding illegal immigrants while Arkansas's governor and Rudy Giuliani's views on abortion.  Watch the interview.
Click here to see CNN's new political portal: CNNPolitics.com
- CNN Associate Producer Martina Stewart