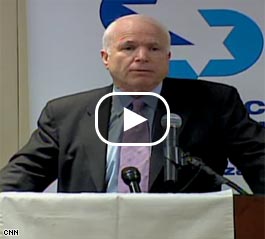 Watch Sen. McCain discuss the state of the Republican Party.
NEW YORK, New York (CNN) – Arizona Sen. John McCain said Monday he supported economic sanctions against Iran, a no-negotiations policy with anti-Israeli militant groups, and endorsed free-trade in a speech to a group of American Jewish leaders.
McCain, who is seeking the Republican presidential nomination, also told attendants at the American Jewish Organizations Conference that the decrease in the number of American deaths in Iraq can be attributed directly to the "surge," of U.S. troops sent in to that country by President Bush.
"I can look you in the eye today and say that it is succeeding," McCain said.
The Arizona senator acknowledged that some Americans view the GOP with skepticism, because a handful of its federal lawmakers have been convicted of abusing their positions for personal gain.
"Republicans obviously have very low approval ratings throughout the country because largely, in my view, because of our spending practices, which have led to corruption and I don't use that word lightly," he said. "I say corruption because there are former members of Congress now residing in federal prison."
But McCain also pointed out that the GOP is the party of American legends including President Abraham Lincoln, President Theodore Roosevelt and President Ronald Reagan. And he said that the GOP is "an inclusionary party not an exclusionary party," that promotes "less government, less regulations, strong national defense, lower taxes, more individual freedom."
Click here to see CNN's new political portal: CNNPolitics.com
- CNN's Laura Winter