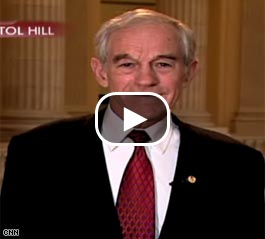 Watch Rep. Paul's Situation Room interview.
WASHINGTON (CNN) – Rep. Ron Paul, R-Texas, gave the credit for his growing presidential campaign to his grassroots supporters in an interview on CNN's The Situation Room Thursday.
"I think we have a very good platform that's very appealing to the people who care about what's going on in this country," said Paul. "I think it's a strong message, a strong disaffection for what's happening here in this country. I happened to be there," explained Paul. "And, the grassroots has really put this together," the libertarian added.
The Texas Republican spoke to CNN's Wolf Blitzer about his fundraising, the expansion of his presidential campaign, the Iraq war, his 'plan B' if he doesn't win the 2008 Republican presidential nomination, his voting record in the U.S. House of Representatives, and his views about the U.S. Constitution.
Watch Paul's Situation Room interview.
Related: Will Paul spoil New Hampshire for the GOP?
- CNN Associate Producer Martina Stewart