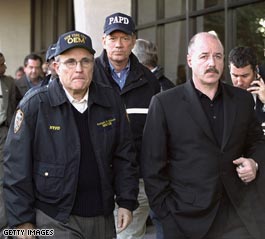 Rudy Giuliani and Bernard Kerik prepared for a press conference in November 2001.
(CNN) - A year after admitting to misdemeanor charges of financial impropriety, former New York Police Commissioner Bernard Kerik faces new charges from a federal grand jury, sources familiar with the investigation said Thursday.
A sealed indictment against Kerik is expected to be unsealed on Friday, two sources familiar with the probe told CNN. No details of the charges involved were immediately available, but sources said earlier this week that prosecutors had been looking into allegations including bribery and tax evasion.
Kerik, 52, is a longtime friend and former protege of former Mayor Rudy Giuliani, now the Republican presidential front-runner in national polls. He was frequently by Giuliani's side in the days after the Sept. 11, 2001 attack on the World Trade Center, and his role as the city's police commissioner propelled him into the national spotlight.
With Giuliani's backing, President Bush nominated Kerik to be secretary of homeland security after winning re-election in 2004. But Kerik withdrew his name from consideration that December amid allegations that he employed a nanny who had questionable immigration status.
Bronx District Attorney Robert Johnson then began investigating allegations that Kerik had traded payment on repairs to his Bronx apartment for favors, including city contracts. The ex-chief pleaded guilty in 2006 to accepting tens of thousands of dollars in gifts while he worked as city corrections commissioner. He was fined $221,000 and avoided jail time under his plea agreement.
Giuliani, now the front-runner for the 2008 Republican presidential nomination, called his earlier patronage of Kerik "a mistake" during a campaign stop in Iowa on Thursday.
"I made a mistake in not clearing him effectively enough, and I take the responsibility for that," Giuliani told reporters at a campaign stop in Dubuque, Iowa. But he added that voters who look at his record as a prosecutor and mayor will decide, "If he makes the same balance of right decisions and incorrect decisions as president, the country would be in pretty good shape."
Kerik served as Giuliani's driver during his 1993 mayoral campaign. Giuliani later named him the city's corrections commissioner and police chief; made him a senior executive of the management consulting firm Giuliani founded after leaving office; and was a leading advocate for having Kerik named to the homeland security post.
GOP strategist David Winston said Kerik's indictment will be a test of how well the Giuliani campaign responds to "something that was clearly going to happen."
"Questions about Kerik have been stirring ever since the short nomination process for homeland security," Winston told CNN.
Before tapping Kerik for a Cabinet post, Bush also dispatched him to Baghdad to train Iraqi police after the U.S. invasion that toppled Saddam Hussein. He left three months into an expected six-month stint, with Iraqi officials telling reporters that he had completed his assignment.
In 2004, he campaigned for Bush's re-election effort, making a speech at the GOP national convention in New York.