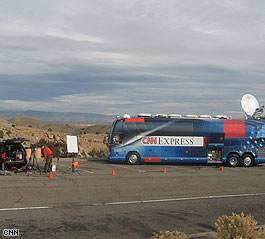 The CNN Election Express on location near the Colorado-Utah border Sunday.
ONBOARD THE CNN ELECTION EXPRESS (CNN)- We're out in the middle of the rugged desert in southeastern Utah. I can't give a town as a locator, because there's no town for miles around. Grand County is the best I can do.
Utah is considered the most Republican state in the country. President Bush grabbed 72% of the vote here in 2004. The governor and both senators and two of the state's three house members are Republicans. The last time the Democrats won this state in a presidential election was 1964.
Mormons make up just over 60 percent of Utah's population.
We started this morning in Grand Junction, Colorado. After a couple of live reports by CNN Senior Political Analyst Bill Schneider for our domestic and international networks, we packed up and headed west.
We're on the road to Las Vegas, where CNN and the Nevada Democratic Party will put on Thursday night's presidential debate. The national party made Nevada more of player in the presidential primary calendar, moving the state's caucuses up to mid January. Nevada's growing Latino population and its large union workforce are two reasons why the Democrats made the move.
Click here to see CNN's new political portal: CNNPolitics.com
- CNN Deputy Political Director Paul Steinhauser