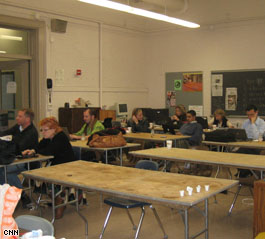 Sen. Obama announces his education reform plan in New Hampshire Tuesday.
MANCHESTER, New Hampshire (CNN) – Sen. Barack Obama spent the day traveling the Granite State unveiling his education plan. Here's how the day kicked off:
7:45 AM: Leave my hotel room en route to Manchester Central High School.
8:150-8:30 AM: Desperately search for parking on the street. I won't be back until 10:30PM, and all the street spaces are two-hour metered parking. I end up negotiating a spot with the convenience store across the street from the school. Thank you!
8:30-9 AM: Press members gather in the filing room. The Obama campaign supplies a healthy breakfast.
9 AM: Manchester Central High School. The press waits in the filing room until 9:04 AM. Then we're escorted into the main hall, speech begins soon thereafter.
9:09 AM: First signs of snow flurries!
9:15 AM: Obama rolls out his plan to improve the American education system. He says the current system is "morally unacceptable for our children," and he discusses his own story. "Even though my mother didn't have a lot of money, scholarships gave me the chance to go to some of the best schools in the country." He continues, "I want to give every American child the same chances that I had." His plan includes: reforming No Child Left Behind, instituting affordable early education, actively recruiting and developing teachers through training and rewarding incentives, and developing new metric assessments to better assess and measure learning.
9:46 AM: Speech ends. Snow is falling hard now.
- CNN New Hampshire Producer Sareena Dalla