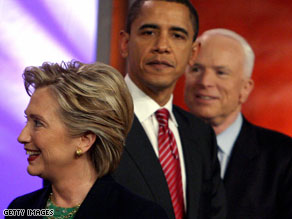 "Ready on Day One?" That's the question posed by a front-page story in USA Today.
The story looks behind the political slogan and makes a startling discovery. None of the three main candidates for the White House is very long on the kind of experience being touted as necessary to run the country. You see, these three have never run anything that amounted to that much. Not a business, not a large corporation, not a state. No governors here, nothing. They are professional politicians whose managerial experience amounts to overseeing their campaigns and managing their offices in the Senate. Although truth be told, they probably all have someone else who actually does both of those things.
In fact, these three candidates have less executive experience than any president in nearly 50 years.
To read more and contribute to the Cafferty File discussion click here