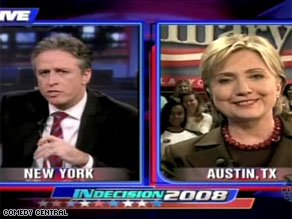 Sen. Clinton appeared on The Daily Show late Monday night.
(CNN) - Two nights after poking fun at herself on Saturday Night Live – and hours before voting began in the critical March 4 primaries - Sen. Hillary Clinton took another late night comedy turn.
The Daily Show's Jon Stewart teased the Democratic presidential candidate for speaking with him on the eve of Tuesday's crucial primaries in Ohio, Rhode Island, Texas, and Vermont.
"As a host, I'm delighted. As a citizen, I'm frightened," Stewart quipped.
"It is pretty pathetic," she said, as he burst out in laughter. Clinton spoke to Stewart from Austin, Texas via satellite. The long satellite delay caused a few awkward exchanges, with both joking that the connection was coming from Mars.
Clinton last appeared on The Daily Show in 2003, but the two chummed around like old friends. Clinton even kidded that she wished Stewart were down in Texas with her. "You could make fun of us in person, instead of by remote," said Clinton.
Stewart responded: "To know you're people with feelings, it would just be too much."
Between light-hearted moments, Clinton praised the two largest states voting on Tuesday and reiterated that the race is far from over.
"I love both Texas and Ohio because they're states that are complex and there are a lot of variety in each of them," she remarked. "I think what we're going to find out tomorrow is we're still in a very close contest in terms of the popular vote and the number of delegates. …My husband (former President Bill Clinton) didn't wrap up the nomination until June."
Related video: Clinton takes on Jon Stewart
–CNN's Peter Lanier