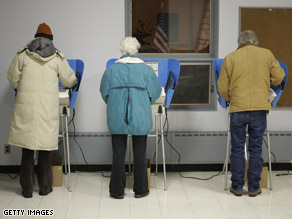 Voters cast their ballots in Bowling Green, Ohio.
NEW YORK (CNN) – The economy ranked as the most important issue on the minds of Texans and Ohioans Tuesday, but Democratic voters in these two critical presidential primary states differed when it came to the issue of U.S. trade with other countries.
Eighty-one percent of Ohio Democratic voters said U.S. trade led to the loss of jobs, while 58 percent of Texans held the same view.
Iraq and healthcare also ranked as top issues for Democratic voters in each state. Nineteen percent of Ohio Democrats ranked healthcare as the most important issue, while 18 percent thought that Iraq was the top issue. In Texas, 26 percent of Democratic voters said Iraq was the top issue, followed by 22 percent who thought health care was the number one issue.
Related: CNN's Suzanne Malveaux reports on the Democratic fight for Texas
- CNN Political Editor Mark Preston